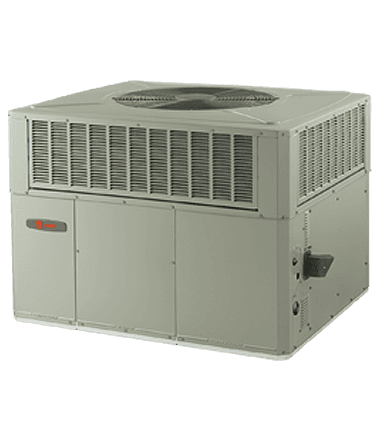 Efficiency Rating        Up to 13.4 SEER2
Speeds                                             One
AFUE                                              81%
---
Description
Long lasting stainless steel
The XR13.4c packaged gas/electric system combines an efficient air conditioner with a stainless steel heat exchanger in one sleek cabinet. Stainless steel systems can provide years of reliable heating for even the harshest winter conditions.
Efficient performance
The XR13.4c packaged gas/electric system boasts 13.4 SEER2 for cooling and 81% AFUE for heating. With these ratings, you'll know you're making a great choice on a system that effectively heats and cools your home.
Durable system
This system comes with parts that are made to last. Featuring a durable Climatuff® compressor, a stainless steel heat exchanger, a rugged all-steel cabinet, and more, the parts in your XR13.4c packaged system can provide you the heating and cooling you need.
Versatile and flexible
Packaged systems like this one provide total home comfort in one small, compact cabinet. Plus, they're flexible systems that give homeowners the ability to accommodate rooftop or ground installation.
Improved indoor air quality
This system is compatible with our Trane CleanEffects® Whole Home Air Cleaner. Our air cleaning system was the first in the industry to earn the asthma and allergy friendly certification program mark. By adding it to your packaged system, you can help reduce dust, dander, mold, and other particles from the air in your home.
Features
Trane's XL15c EarthWise® Hybrid Dual Fuel Packaged System is a popular choice that delivers energy efficiency and helps lower your utility bills. The flexible, dual-fuel system, which alternates between gas and electric fuel sources, to cool and dehumidify in the summer and provide comfortable heat in the winter, delivers sustained and reliable performance. With a hybrid system that provides up to 15 SEER2 for cooling and 81% AFUE for heating, this ENERGY STAR® certified system ensures versatile fan settings and year-round comfort, no matter the weather.
Specifications
Every Trane Packaged Unit is designed with high-quality components. Each helps ensure that time after time, your unit will provide total comfort your family can rely on. The XR13.4c packaged gas/electric unit includes:
Durable Climatuff™ compressor
All-aluminum evaporator and condenser coils on select models
Advanced Vortica™ blower motor
Stainless steel heat exchanger
Rugged, all-steel cabinet
Safe and reliable spark ignition system
Advanced airflow system for quiet and efficient outdoor operation
Compatible with Trane CleanEffects® Whole Home Air Cleaner whole home air cleaner
Warranty
10 Yr limited warranty compressor
10 Yr limited warranty coil
10 Yr limited warranty internal functional parts
If the product is not registered within 60 days of installation, Trane's Base Limited Warranty terms will apply.
Call to learn more…