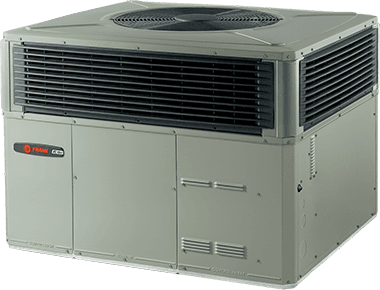 Efficiency Rating          Up to 15 SEER2
HSPF2                         Up to 7.5 HSPF2
Noise level                           69-74 DbA
Speeds                                           Two
---
Description
Versatile and flexible
A heat pump is a system that can both heat and cool your home. With the XL15c packaged heat pump, all you need to do is change the temperature on your thermostat, then let the system carry out your temperature needs.
Utilizes electricity
Heat pumps rely on electricity to generate heat, instead of fossil fuels that could be harmful to the environment. The XL15c packaged heat pump is no different, meaning this system is a green choice for your home.
Efficient performance
The XL15c packaged heat pump is ENERGY STAR® certified, which means it meets the federal government's strict energy usage standards. Plus, the system has a SEER2 of 15 and an HSPF2 of 7.5, to help efficiently carry out your heating and cooling needs.
Quiet operation
This all-electric system operates in an ultra quiet fashion. If it weren't for your home always being at the perfect temperature, you wouldn't even know the XL15c packaged heat pump was powered on.
Improved indoor air quality
This system is compatible with our our Trane CleanEffects® Whole Home Air Cleaner. Our air cleaning system was the first in the industry to earn the asthma and allergy friendly certification program mark. By adding it to your packaged system, you can help reduce dust, dander, mold, and other particles from the air in your home.
Features
Simple, efficient, and effective. The XL15c Heat Pump Packaged System can heat and cool your home to your desired temperature year-round. A simple change in your thermostat kicks the XL15c into action. Highly efficient and all-electric, the XL15c is a cost-friendly and eco-friendly option for any homeowner. Operating ultra-quietly, this dependable heat pump is compatible with the Trane CleanEffects® Whole Home Air Cleaner to reduce allergens in your home.
Specifications
Every Trane Packaged Unit is designed with high-quality components. Each helps ensure that time after time, your unit will provide total comfort your family can rely on. The XL15c packaged heat pump units include:
Exclusive Climatuff™(R) compressor
Patented variable-speed Vortica™ blower system
Unique Comfort-R™ humidity control algorithm for enhanced comfort in the home
All-aluminum Spine Fin™ outdoor coil
Compatible with Trane CleanEffects® Whole Home Air Cleaner whole home air cleaner
Warranty
10 Yr limited warranty compressor
10 Yr limited warranty coil
10 Yr limited warranty internal functional parts
If the product is not registered within 60 days of installation, Trane's Base Limited Warranty terms will apply.
Call to learn more…