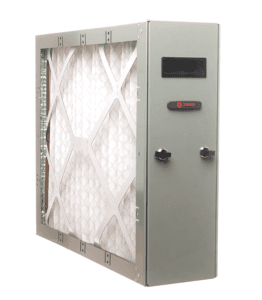 Filter Longevity                   6 Months
Standard Filter          20 times better
Particle size capture as small as 0.3 micron
---
Description
Filters against dust and allergens
The Quikbox air filter helps protect your equipment and family by filtering dust and allergens from the air you breathe. This filter can last up to 6 months and is easily replaceable by you or your installer.
Find the perfect fit
Get a filter that's designed to match perfectly with your Trane HVAC system for optimal performance.
Effective filter
The QuikBox™ filter and media cabinet is an incredibly effective filter.
Features
Protect your family and your investment with Trane's QuikBox Air Cleaner. Air purification has never been so efficient, effective, and cost-friendly. Designed to work with your existing Trane system, the filter and cabinet optimize your system's performance while keeping your home free from dust and allergens. Available in seven sizes to match your existing Trane equipment for easy installation, each filter lasts approximately nine months and can be replaced by you or a certified Trane technician.
Specifications
QuikBox Filter Features:
Up to 20 times more effective
4.7 inch pleated filters
Available in a variety of sizes
Easy to replace