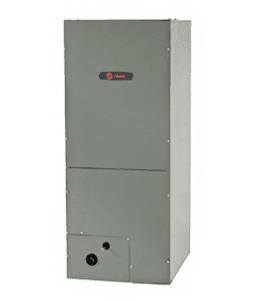 Fan Stages                             Variable
---
Description
Built for value and efficiency
Get efficient home comfort at a price that is easy on the wallet. The Variable-Speed Motor with Comfort-R™ technology reduces noise by gradually starting then ramping up the airflow, reducing hot and cold spots, and carefully regulating humidity.
Rust prevention
The air handler comes with a no-rust polymer drain pan and galvanized cabinet features to keep things running and looking good for a long time.
Reliably built
The all-aluminum coil in the M Series is more durable and rust-resistant than standard copper coils, so you could avoid leaks from corrosives like salt or household cleaning products.
Features
Enjoy the M Series Air Handler, Trane's best value when it comes to air handler products! This all-aluminum, rust resistant cabinet is built to last and tested to prove it, so that it can reliably bring complete comfort into your home. The variable speed fan inside will evenly and efficiently distribute warmed and cooled air throughout your entire home, leaving you to feel like you are entering an oasis every time you step inside. Contact your local HVAC dealer today to see how easy it is to add an air handler to your existing HVAC system.
Specifications
Trane M Series air handlers offer a variable speed motor and Comfort-R technology for reliable comfort and efficiency, like only a Trane can. The M Series air handler includes:
*CTM multi-speed motor
Comfort-R humidity control
4-way convertible line
Galvanized steel cabinet
Optional electric heat
All-aluminum coil
No-rust polymer drain pan
Cooling and heat pump systems available
Warranty
10 Yr limited warranty internal functional parts
If the product is not registered within 60 days of installation, Trane's Base Limited Warranty terms will apply.
Call to learn more…