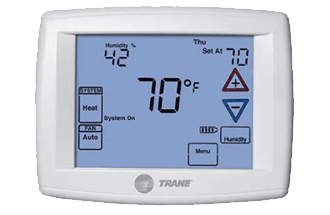 Cooling Stages                         2
Heating Stages                        3
Touchscreen Size 12″ Full Color
Programmable                     Yes
---
Description
Exceptional comfort
The XR302 allows you to program consistent temperatures over a 7 day period, or follow a 5-1-1 schedule that sets different temperatures for weekends. With easy-to-use programming and a built-in memory that retains temperature settings, you can expect your home to feel like an oasis.
Memory capabilities
The XR302 doesn't require you to continually program your temperature settings into your thermostat every day. Instead, this basic-digital thermostat will retain your temperature settings — even when power is interrupted. Plus, it has a real-time clock that changes for Daylight Savings Time automatically.
Automatic controls
The XR302 knows what you need, when you need it, when it comes to your temperature control. This traditional thermostat automatically alternates between heating and cooling settings based on the temperature inside, without you lifting a finger. Plus, it lets you know when you need to change your filter.
Impressive features
The XR302 boasts impressive features for homeowners to enjoy such as simple and easy programming, a large, bright interactive touchscreen, plus filter change and UV lamp reminders.
Specifications
Every Trane home thermostat is packed with high-quality components. Each helps ensure that time after time, your home digital thermostat will provide total comfort your family can rely on. The XR302 includes:
Large, bright back-lit display with interactive touch screen
Armchair programming with removable screen
Filter change and UV lamp reminders
Programming functions stored in permanent memory
Manual or auto changeover
Energy Management Recovery (Early Start)Daylight Savings Time
Five-minute time delay for compressor protection
Outdoor temperature display
Compatible with 3 wire zone valves, mili-volt and dual fuel systems
Warranty
5 Yr limited
If the product is not registered within 60 days of installation, Trane's Base Limited Warranty terms will apply.
Call to learn more…